Available Technologies
The University of Nairobi has applied for IP Rights for the following technologies. For more information on any of the listed technologies, kindly email ipmo@uonbi.ac.ke
Patents and Utility Models applications by University of Nairobi
Name of inventor

Position

Type of Invention

Title/Summary of invention

1

Dr. Peterson Guto

College of Biological and Physical Sciences

Patent

Differential pulse anodic stripping voltammetric sensor using Polyacrylic acid/glassy carbon electrode for simultaneous analysis of Lead(II), Cadmium(II) and Cobalt(II) ions

2

Mr. Peter N jenga

Postgraduate

CBPS

Patent

Antimicrobial agents produced by Xenorhabdus griffiniae strain xn 45. This invention relates to antimicrobials used for treating infections caused by antibiotic resistant bacteria.

Ms. Lorine Nanjala

Postgraduate

CBPS

Mr. Musumba Awori

Postgraduate

CBPS

3

Dr. Wanyonyi Wycliffe Chisutia

Department of Chemistry, College of Biological and Physical Sciences

Patent

Eco- friendly and clean method of processing hides and fish skins into leather using alkaline protease enzyme - The invention relates to an eco-friendly bio-processing method for the processing of hides and fish skin from Nile Perch (Lates niloticus) into leather, comprising mainly enzymatic treatment of the hide or skin with crude alkaline proteases enzyme in the pre-tanning steps.

Prof. John Mmari Onyari

Department of Chemistry, College of Biological and Physical Sciences,

Dr. Paul Mwanza Shiundu

Department of Chemical Sciences and Technology, The Technical University of Kenya

Prof. Francis Jackim Mulaa

Lecturer

CBPS

-Department of Biochemistry, College of Health Sciences

3

Njenga et al

Science and Technology Park

Patent

Medical Sunction Pump

4

Ms. Margaret Wanjiku Murage

Patent

Increasing the consumption of essential long chain fatty acids through fortification of yoghurt with omega-3 pufa from Nile perch oil. These compositions are flavoured if desired.

5

Dr. Jane Ambuko

Lecturer

CAVS

Patent

The Zero Energy Brick Cooler (ZEBC) is a cooling chamber that operates on the principle of evaporative cooling.

6

Mr. Dennis Mutuma Jabani

Not in University- through Non Disclosure NDA Agreement

Utility Model

Solar - powered TV internet station

7

Dr. Omondi Bowa A.

Lecturer

CHSS

Utility Model

Cooking gas cylinder transportation rack, -for holding down gas cylinders in a passenger vehicle

8

Mr. Patrick Mulyungi

Undergraduate

College of Biological and Physical Sciences

Utility Model

Highway hydraulic electricity generator, a system for converting into electricity the compression force exerted on road surface by vehicles

9

Dr. Joseph Chege

Not in University - through NDA

Patent

A drug for treating cancer, a safe amphilic drug

10

Shadrack Mukoya Shitseswa

Education and External Studies

Utility models

Re-usable sanitary towels

11

Kenneth Munene Kobia

ADD

Utility Model

Hardcart convertible to a sale store
Technologies that the University of Nairobi has already developed working prototypes and which are ready for marketing and licensing.
Title of Invention

These technologies and prototypes have been developed under the Science and Technology Park, University of Nairobi

A medical suction pump broadly comprising of glass jars, tubing, filter assembly, pump and pressure regulator.

Phototherapy Unit
New Plant varieties Protection
The following new bean varieties have been protected under the Seeds and Plant Varieties ACT Cap. 326 through Kenya Plant Health Inspectorate Service KEPHIS.
KCB13-01
KCB13-02
KCB13-03
KCB13-04
KCB13-05
KCB13-06
KCB13-07
KCB13-08
KCB13-09
KCB13-10
KCB13-11
KCB13-12
KENYA TAMU
KENYA SAFI
KENYA MAVUNO
NPP670
ROSECOCO MADINI
KENYA MAUA
KENYA MAJANO
KENYA MADINI
KENYA CHEUPE
KENYA AFYA
UNIVERSITY OF NAIROBI REGISTERED TRADEMARKS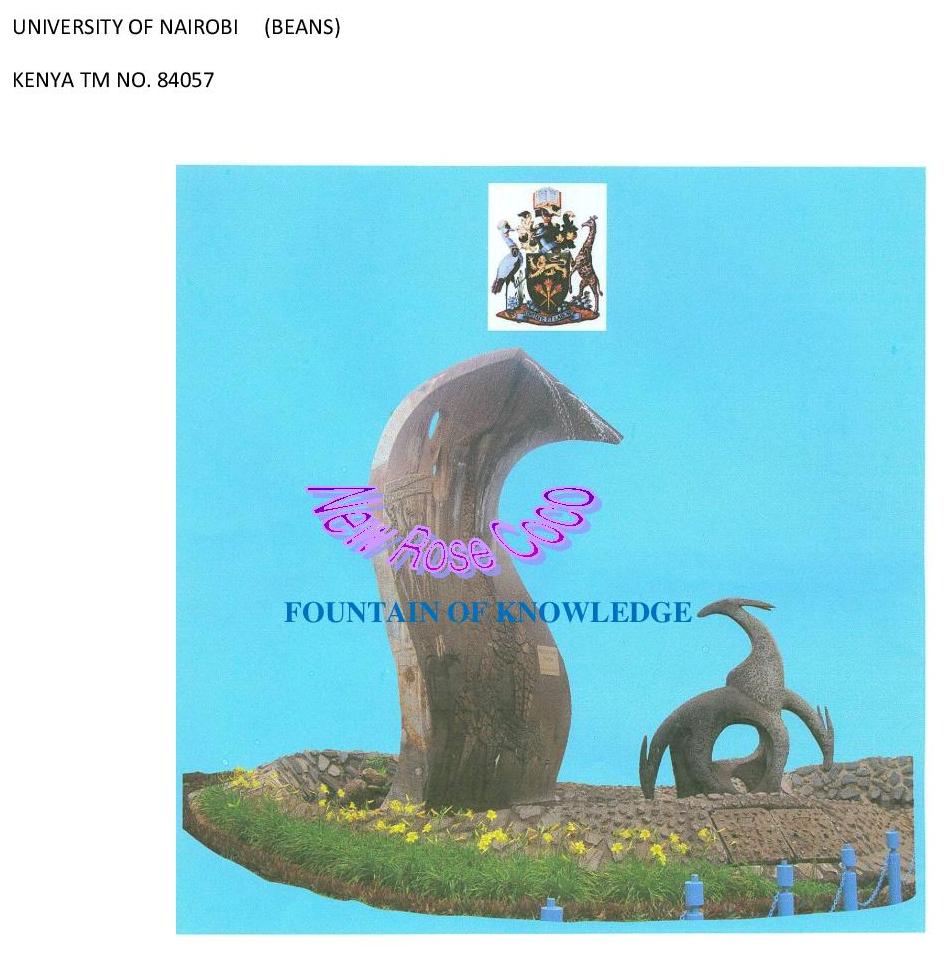 NUCHEM is a detergent product produced by theUniversity of Nairobi